Editors' Note: As a manufacturing heartland and leading foreign trade player in the country, Guangdong has served as an important window that showcases China's achievements in reform and opening up to the world and an important window for the international community to observe China's reform and opening up. What will be the situation of Guangdong's economy this year? GDToday & Nanfang Daily launched a special series titled "Guangdong Economic Watch", aiming to analyze the economic prospect of Guangdong.
Diane Aly, an African employee of the Foshan-based Cadenza Chemicals Limited, obtained the very first RCEP certificate of origin issued by China Council for the Promotion of International Trade Guangdong Committee (CCPIT Guangdong) at midnight of January 1. The certificate enabled the customer to enjoy a 5.4-percent tariff reduction for a batch of synthetic camphor that is worth 2 million RMB and was about to set sail to Japan.
The RCEP came into effect on January 1, 2022. It created the largest free trade zone which includes the 10 ASEAN countries as well as China, Japan, South Korea, Australia and New Zealand. As of February 11th, CCPIT Guangdong and local committees have issued 665 certificates of origin under the RCEP, which has offered a total of 520-thousand USD tax reduction.
RCEP to stabilize regional industrial chain amid pandemic
"We used to import raw materials from the US and export products to Europe. But now we import raw materials from Southeast Asia and export to Japan and Australia because the shipping cost went up high due to the Covid-19 pandemic," said Wan Ga, general manager of Cadenza Chemicals.
"Some Japanese customers have placed new orders with us for cosmetic raw materials which they used to import from the US and Germany before the implementation of RCEP," Wan Gang added.
ASEAN has been an important trade partner of Guangdong. According to Guangdong sub-administration of the General Administration of Customs of the People's Republic of China (GACC), ASEAN has been the biggest trade partner for 2 years in a row with bilateral trade hitting 1.24 trillion RMB in 2021, up 14.3 percent.
"The RCEP will play a vital role in integrating the regional economy as the industrial chain and logistics are increasingly concentrated in the Asia-Pacific region," said Wang Jun, former director of the Economic Committee of the CPPCC Guangdong Provincial Committee.
Wang stressed that the RCEP is important to both China and ASEAN countries, saying, "Although ASEAN has signed free trade agreements respectively with other RCEP members, countries are expecting a more stable and integrated market especially under the recent international situation where the global supply chain can be easily interrupted".
Nick Koay, chairman of Maycham China (Greater Bay), is also optimistic about the RCEP because it means a huge market with a population of 2.27 billion and an import and export volume of more than 10 trillion USD accounting for 30 percent of the world's total in 2020.
"RCEP unites 15 countries whose political systems and development stage are different, and actively engages them into dialogues to promote trade cooperation and strengthen the region's global competitiveness. We also expect the RCEP to facilitate investment, trade and transportation flows," said Nick Koay.
Traders suggested to formulate more targeted plan to seize RCEP opportunities
Foreign trade has been a crucial economic engine in Guangdong after the pandemic. According to the Guangdong Sub-Administration of GACC, Guangdong's foreign trade volume reached 8.27 trillion RMB in 2021, an increase of 16.7 percent compared with 2020, ranking first in China for 36 consecutive years. However, the province remains cautious of the trend in 2022 as the Guangdong Government Report set its growth target at 3 percent for foreign trade this year.
"The key challenge will be to handle the balance between epidemic control and economic recovery," Wang Jun highlighted, "many countries, especially those highly depend on overseas markets, have to resume production this year even though Covid still exists. But the costs will go up if countries resume production and conduct epidemic control at the same time, which is expected to pose difficulties to foreign trade".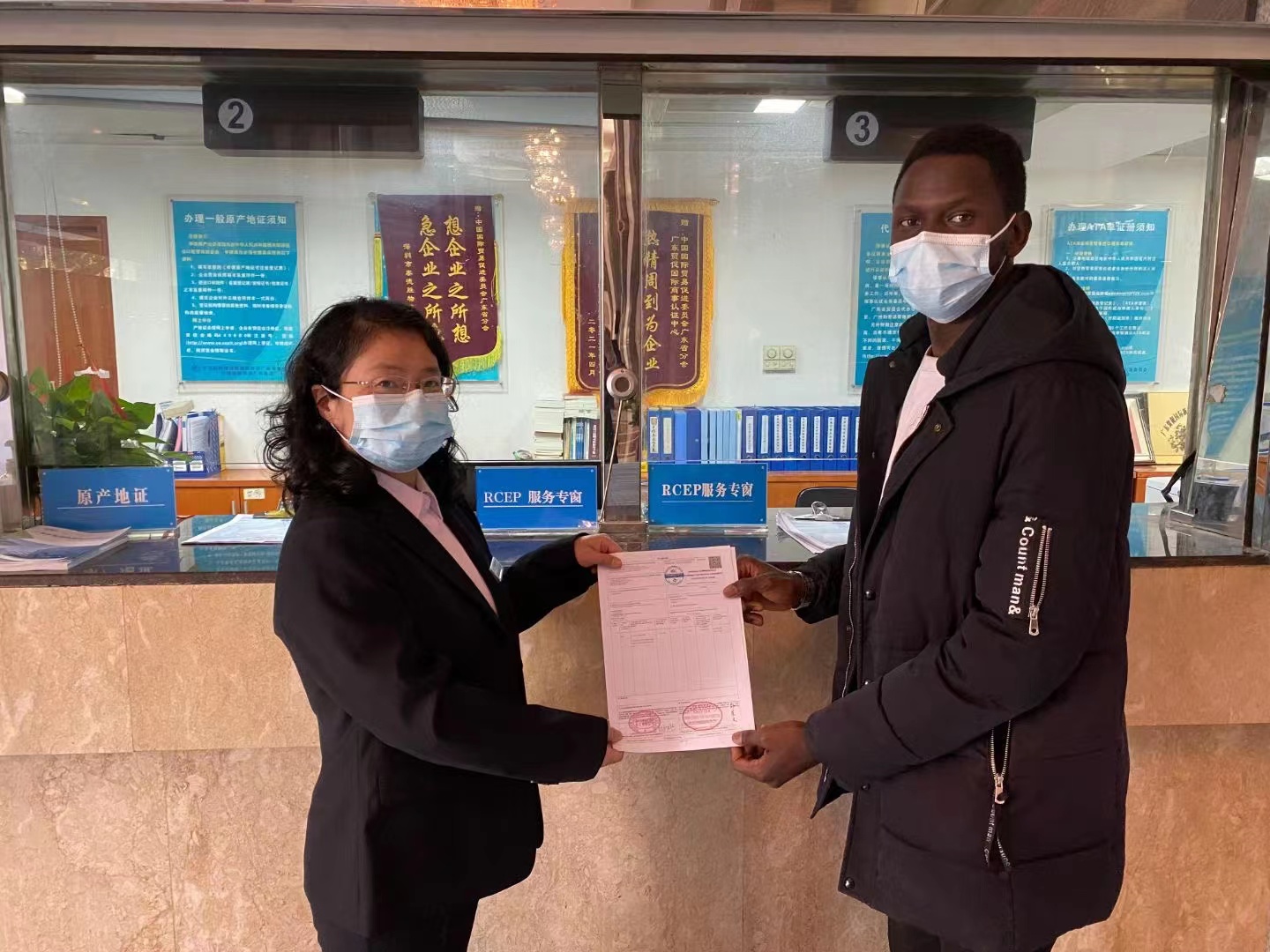 Wang Jun pointed out that countries rely on the global industrial chain to recover their economy. While resuming production, they will generate new demand for upstream and downstream products. He analyzed, "the growth will be structural in 2022 so enterprises should analyze the needs of different countries and make a detailed plan to seize opportunities in a specific country".
ASEAN agro-products meet opportunities to enter Chinese market
More than 90 percent of the trade in goods in the region will be tariff free in about 20 years now the RCEP has come into effect. The RCEP is also expected to tighten industrial partnerships in the region through its Cumulative Rules of Origin, according to the Chinese Academy of International Trade and Economic Cooperation of China's Ministry of Commerce.
Based on the agreement, the 15 member states under RCEP are treated as one economic region when the origin of goods is determined. As long as the RCEP member state processes materials or goods originating from other member states, the materials can be regarded as originating in the processing country so that companies can enjoy tax reductions with a much lower threshold.
"The RCEP will bring new chances to Guangdong-ASEAN bilateral trade relationship," said Wang Jun, "on the one hand, ASEAN agro-products will benefit from the new rules that shorten customs clearance time and can enter the Chinese market more easily. On the other, Guangdong has a strong industrial base and it will see increased demand for machinery and equipment from ASEAN countries as they restart their construction projects".
In addition, Wang Jun believes the semiconductor industry will be promising in the next three to five years. "The export volume of mechanical and electrical products accounted for 69.1 percent of the provincial total export in 2021. RCEP will create more demand in this field and bring new opportunities to such industries as semiconductors, new energy vehicles and intelligent equipment".
There are voices saying that some Chinese advantageous industries might face competition from ASEAN after the implementation of the RCEP. Nick Koay considered Chinese enterprises started going global and investing in Southeast Asia before the RCEP. "They invested in ASEAN out of different reasons, some for the market while others are looking for raw materials or cheaper labor cost. After all, trading is the competition of price and quality, so what we have to do is to constantly improve self-competitiveness".
Nick Koay owns household appliance manufacturing factories in both Malaysia and Guangdong's Zhuhai, and he feels confident about the development in 2022. "The output of our Guangdong factories was recovered up to the 2019 level in 2021. We raised the price this year due to the cost of raw materials but overseas orders keep coming even though our price is higher than last year. We are expecting a 10-percent increase in output this year" .